When eminent author Binapani Mohanty was recently conferred with the prestigious Atibadi Jagannath Das Samman – Odisha's topmost literary award – at her Cuttack residence in the midst of the pandemic, it was only a fitting compliment by the Odisha Sahitya Akademi to an author who has immensely contributed to Odia literature and enriched it.
In a literary career spanning six decades, Mohanty has carved a niche for herself in the field of Odia fiction writing. She was awarded the 'Padma Shri' this year. Numerous other awards have come in her way during the long career.
Born to Chaturbhuja Mohanty and Kumudini Mohanty of Chandol in an otherwise politically sensitive district of Kendrapara, the eighty-four-year-old Binapani Mohanty is a retired professor of Economics at Cuttack's Sailabala Women's College – an exalted institution that has added a glorious chapter in the realm of women's education in Odisha. Mohanty had also been a chairperson of Odisha Lekhika Sansad – the women writers group.
Binapani Mohanty's career as a story-teller began with the publication of 'Gotie Ratira Kahani' (Story of a Night) in 1960. Some of her best-known stories are 'Khela Ghara(Doll House),'Naiku Rasta'(Road to a River), 'Bastraharana', 'Andhakarara Chhai (Shadow of Darkness)', 'Kasturi Mruga O Sabuja Aranya'.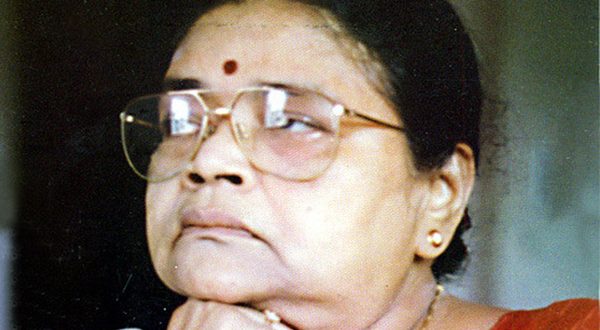 But it was 'Pata Dei and other Stories 'that won her the Kendriya Sahitya Akademi Award in 1990. Mohanty's oeuvre has been ever-expansive: thirty short story collections, three novels (Sitara Sonita, Manaswini and Kunti, Kuntala, Shakuntala); autobiography; translated Russian folk tales from English to Odia. She has also a one-act play entitled 'Kranti' to her credit. Several of her short stories have been translated into different Indian languages: Hindi, Kannada, Malayalam, Marathi, Bengali, Urdu, Telugu and obviously English and Russian.
If Odia short stories have evolved over time and kept pace with the changing trends, writers like Binapani Mohanty have experimented the form in all its hues and colors. A feudal society with all its specious characteristics, Odisha has been a fertile ground for literary exploration and the short story genre has only facilitated that quest.
Social injustice, women's rights, and the caste system have been the central themes of Mohanty's short stories. The focus has, all along, been on the storyline and the circumstances rather than the new-fangled aspects of syntax and language.
'Pata Dei' essentially talks of how women are expected to conform to societal norms and are taken for a ride by the very people who take advantage of their hopelessness.
The story begins somewhat like this:
'Nobody had ever seen Pata dei (1) after that fateful night of Dola purnima. It seemed as if the night itself had engulfed her. The moon was spread clear and bright all over the village. After the ritual journey from house to house the deities were being gathered in the field. The air was thick with the swelling crowds, the sounds of cymbals and bells, and the children smearing colours on one another. The excitement of the purnima night is very different from what follows the next day – the Holi celebrations. This night comes once a year, only to disappear before one realizes it was there. But the experience generally settles down like dust, like the colours, unnoticed by all. It clings to the body and mind the whole year long – piled up inside. That is how, maybe, behind her pleasant smile Patadei had layers of worries spread like slime inside her.'
Mohanty's Pata Dei (Elder Sister) tackles the hypocrisy that surrounds sexual assault in society. As Pata Dei – the protagonist – returns to her father's home with a child, slanderous accusations are hurled at her and the villager's question who the child's father is. Defiant and fearless, Pata Dei narrates to the villagers the trauma of the night when a group of her own village men had raped her.

"You want to know who the father of this child is. There, they are all standing here. Ramu, Veera, Gopi, Naria and a couple more of them later. How can I tell whose child this is? That night, during the Dola festival when the mock fight was going on, these people had stuffed a cloth in my mouth and carried me away to the edge of the graveyard. There, behind the bushes, they had chewed me up alive…like plucking out flesh from bones. My mouth was closed but before losing my senses I did recognize them all by the moonlight. How can I tell whose child this is? Ask that Hari Bauri. He took money from all of them to leave me at Cuttack. I didn't come all these days because I didn't want to bring more shame on my father. After returning too, I've revealed nothing. But ask them all now. Let them swear on themselves and decide who the father of this child is." (Translation by Sunita Mishra).
Then she turns to her infant son and says, '…Why should you cry, dear? Don't be afraid of these people. None of them is man enough to stand up and admit to being your father. But your mother is always there for you…"
Pata Dei was serialized as 'Lata' in the now extinct 'Femina' in and around 1986. In 1987, its Hindi dramatization was telecast on Doordarshan as a series entitled Kashmakash.
Many of Binapani Mohanty's stories are grim tales where characters refuse to bow down to social prejudices, despite undergoing extreme torment. But then the reader does not lose all hope and there is a silver lining at the end of each story.